The Happy-Go-Lucky Exhibit (HGL)
is a fully immersive and interactive art exhibition that inspires visitors to indulge in positive energy, celebrate their uniqueness, and create memories that radiate happiness. HGL launched in 2018 with a single concept in mind: The guest is the star, we are the stage. It opened its doors in New York with great fanfare, entertaining over 15,000 visitors in a month.
Let us at Happy-Go-Lucky Exhibit take you on an incredible journey where you become immersed in the art.
Here is a place where you can immerse yourself in a cacophony of glittering lights and dazzling scenes as we celebrate all the wondrous joy that is you. Here, we present a stage for which your happiness is the golden standard that all should aspire. Within our multi sensory exhibit, you can immerse yourself in environments designed to enchant and accentuate all who wander through. At HGL, you are the Superstar on a dazzling diamond runway; transform into the cosmic wonder at the center of rippling stars; stand out as the rose among the humble blossoms.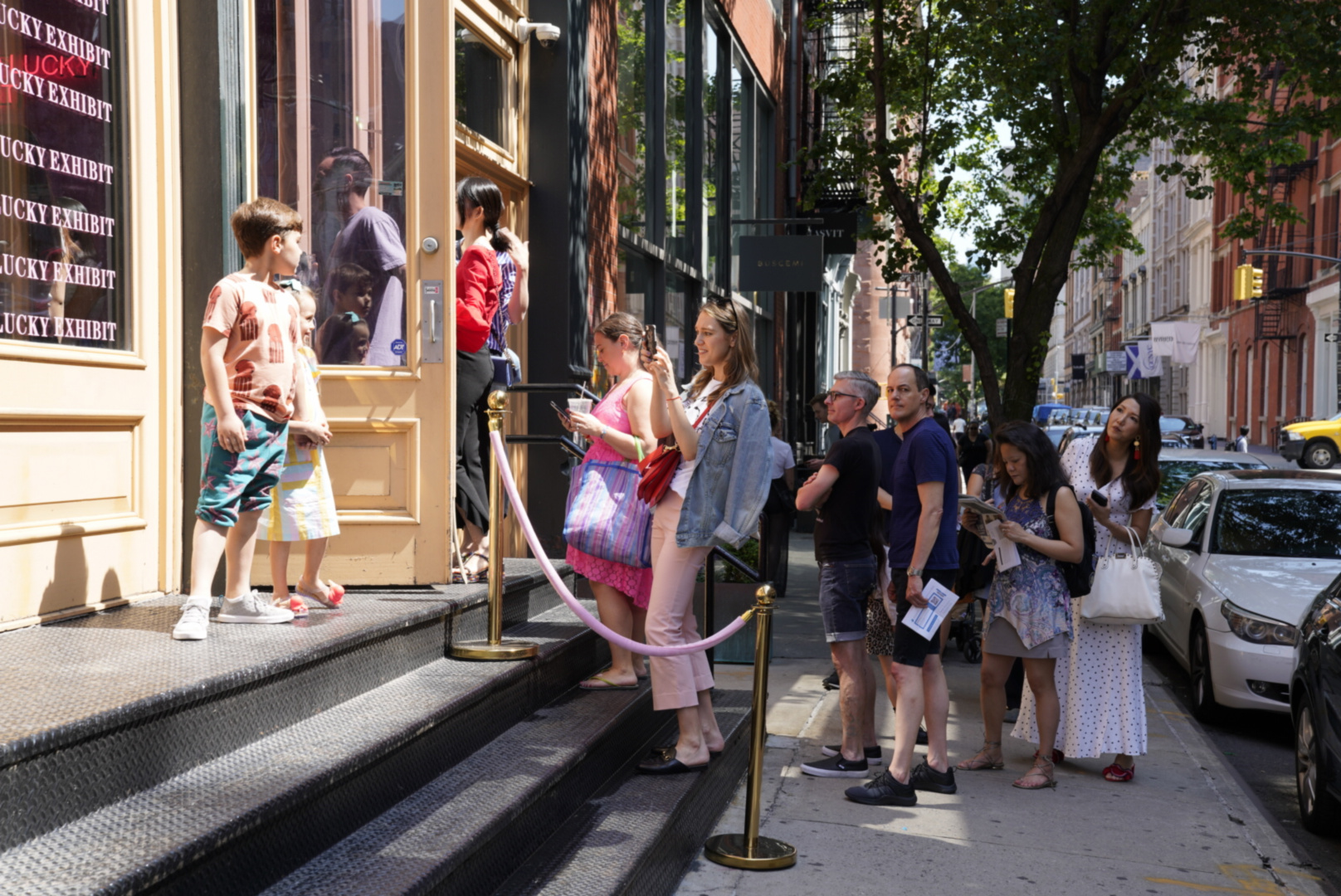 2018 New York Exhibition
The exhibit New York from June 9 – July 8, 2018 at 43 Wooster St, Soho, NY 10013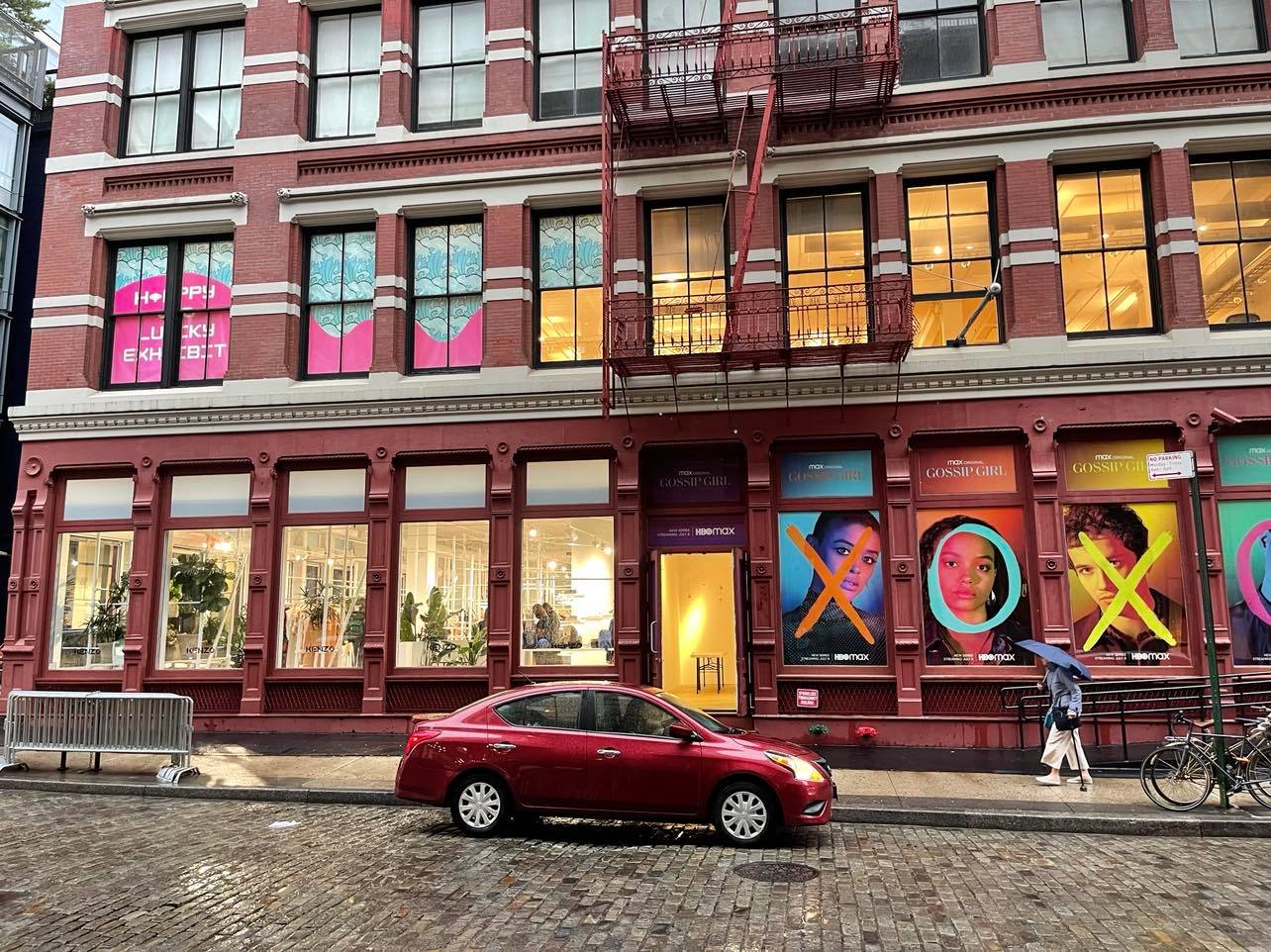 2021 New York Exhibition
The exhibition is from June 23, 2021-January 2, 2022 at 32 Mercer Street, Second Floor, New York, NY, 10013
Our Art Work
Diamond Palace
Covered entirely with mirrors, this room is full of optical illusions and dazzling lighting effects. A runway feel provides a perfect platform for fancy photography. Beautiful diamond shapes expand and reflect, allowing visitors to submerge themselves into a dreamy and aesthetically unforgettable experience.
The Illusion
Patterns blend and collide in a series of yellow and black lines, creating an optical illusion of space, which allows the visitors to play with the distorted field of depth. The large installations let you manipulate the illusions; curving, bending or clashing while you strike the most dynamic pose. The illusion invites us to experiment and explore the unique aspects of you.
Silver Ocean
A unique and interactive space, Silver Ocean is an immersive room with a giant, highly reflective Sea shell in the midst of a projection of ocean waves. Let yourself be enveloped by the waves. Step into the center of the shell, take a seat, and feel like you are floating amidst the sea. The rippling waves dance to the movement of the surround-sound. The live audiovisual effects reflect the changing sky and light, producing an environment akin to a living sculpture.
Petrichor
Petrichor is an aesthetic utopia filled with giant, slowly blooming blossoms swathed under a blanket of rippling lights. The monochromatic scene allows you to stand out like a wild rose in a colorless desert as the simulated rainbows invoke the feelings of a long awaited summer rain.
Pepper Garden
The Paper Garden is a lively, vibrant, and colorful environment designed to add a dash of flavor to the experience. Sprinkle a little spice onto how you feel as you sit on the giant Red Jalapeño Pepper under a sign that radiates confidence.
Midnight Sea
The Midnight Sea is a relaxing environment designed to recreate the feeling of your first encounter with the sea. The room features a 6' tall conch shell in the center, with flowers extending out of the mouth of the conch. The soothing sound of ocean waves will accompany you throughout your visit. Immerse yourself in this dreamy, ocean-like space.
Felicity
Along the peony lined lane of flaxen petals are memories of simple joys. Of sun showers and familiar conversations with old friends. Golden blossoms curve around one another in silent comradery as they gaze upon your countenance and smile in kind. Gentile bulbs twirl overhead bringing welcomed company for the journey. It is in this wild patch of exuberant lilies that you will always find a compliment for your warm disposition. Take a moment, take some time, and remember why you smile.
Telly Garden
Tropical bulbs flourish in this technical nursery where classic beauties collide. Timeless nature weaves delicately around the nostalgic glow of CRT screens. Will you smile for hidden eyes or prance about abundant rows of everlasting blooms? Experiment and immortalize your memories within the static bouquet of the Telly Garden.
Pink Beach
Pink Beach immerses you in a playful, nurturing, and carefree environment within a giant pink clamshell, pink pearl, and multicolored balloons. Feel as if you are floating in the ocean, away from all your troubles. You are like a balloon that has just been released into the air, hoping to reach the most positive destination.